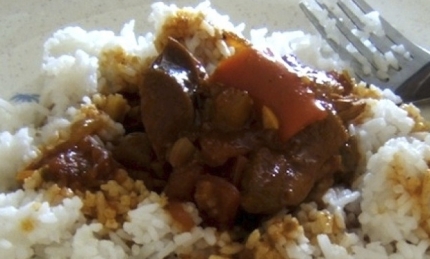 How to cook Chicken Afritada
Ingredients
1 kg chicken, cut into serving pieces
5 tomatoes
3 potatoes, quartered
1 onion
1 head of garlic
1 red bell pepper, sliced into strips
1 green bell pepper, sliced into strips
2 laurel leaves
2 tbsp vinegar
salt and pepper
Cooking instructions
Stir fry the chicken until the color changes to light brown.
Remove from the pan and set to one side.
Saute the garlic, onion and the tomatoes.
Add the chicken, vinegar and laurel leaves.
Simmer until the chicken is almost cooked.
Add the potatoes, red and green bell peppers.
Season with salt and pepper to taste.