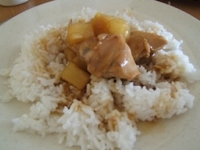 Ingredients
1 whole chicken
2 garlic chives, 1⁄2" long
3 tbsp soy sauce
1 tsp salt
1 tbsp sugar
4 thin slices of ginger
1 cup pineapple chunks
1 tbsp flour or cornstarch
1⁄2 cup water
400g pineapple chunks and juice
Cooking instructions
Prepare the chicken and chop into four parts.
Deep fry until the chicken starts to brown.
Remove it from oil and slice it into smaller pieces.
Place the chicken into a casserole dish along with the garlic chives, ginger, salt, soy sauce, sugar, and 1⁄2 cup water.
(You may also add wine for seasoning to make the taste richer if you like.)
Cover and let it simmer.
Mix from time to time and add another 1⁄2 cup water if the chicken is not yet cooked well.
Remove from heat when chicken is tender.
Combine pineapple juice and 1⁄2 cup chicken stock.
Mix in the flour or cornstarch and pineapple chunks.
Put it on a low heat.
Keep on mixing until sauce thickens.
Remove from heat and pour onto chicken.