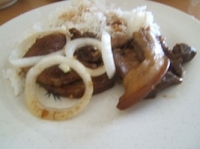 How to cook Bistek pork or beef Steak Tagalog/Filipino Style
Ingredients
720 grams beef sirloin or pork
200 grams pickles
200 grams lettuce
50 grams garlic, crushed
200 grams calamansi juice
3 tbsp cooking oil
2 grams black pepper
Cooking instructions
Marinate the pork or beef in crushed garlic, soy sauce and calamansi juice.
Heat the cooking oil in a pan then stir fry the onion rings until the texture becomes soft.
Set aside.
In the same pan where the onions were fried, fry the marinated beef (without the marinade) until color turns brown.
Set aside.
Add the onion rings then saute for a few minutes.
Add soy sauce and calamansi.
Simmer until sauce thickens.
Arrange the fried meat in a serving dish.
Pour the sauce over the meat.
Then serve it with pickles.