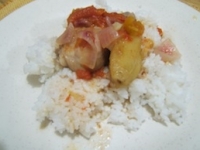 How to cook Chicken Estopado
Ingredients
1 kg chicken
5 tomatoes, quartered
2 onions, quartered
10 cloves garlic
1 laurel leaf, crushed
cardava banana
1 tbsp vinegar
cooking oil
ground black pepper
salt and chicken cubes
Cooking instructions
Clean the chicken first then cut it into halves.
Season the chicken with salt and stir fry it until color changes to light brown
Remove the chicken from the pan and put it into a casserole dish.
Add water and vinegar together with the cardava banana, onions, garlic and tomatoes.
Then add laurel leaf and black pepper.
Bring it to a boil and let it simmer until sauce thickens.
Add salt and chicken cubes to taste.