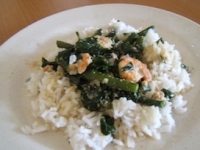 How to cook shrimp with coconut milk
Ingredients
3 cups malunggay (moringa) or spinach
2 cups sitaw (string beans)
1⁄4 kg shrimps
2 cups coconut milk
3 tbsp garlic, minced
1 cup onion, chopped
salt and pepper
genger
shrimps cubs
Cooking instructions
Peel the shrimps and keep the shell.
Boil the shell with 1 cup of coconut milk for a few minutes then remove the shell.
Add the garlic and onion then add the shelled shrimp together with the malunggay/spinach and the string beans.
Bring to a boil and let it simmer.
Then season with salt, chrimps cubs and ground black pepper.
Add the remaining coconut milk and bring to a boil.
Lower the heat to maintain a gentle simmer and cook while stirring.
Taste and adjust the seasoning if necessary.