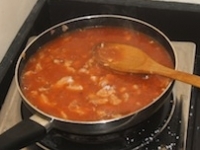 How to cook pork menudo
Ingredients
1⁄2 kg pork, cut into small chunks
1 cup pork liver, cut into small cubes
1 cup potatoes, diced
1 onion, thinly sliced
200g tomato sauce
1 tbsp garlic, minced
1 laurel leaf
1 cup water
2 tbsp cooking oil
salt and pepper
Cooking instructions
Saute the garlic and onion.
Then add the pork.
Cook until it tenders.
Add the laurel leaf and tomato sauce.
Simmer for 5 minutes.
Add the potatoes, pork liver and cup of water.
Bring to a boil and simmer for another 20 minutes.
Season with salt and pepper to taste.