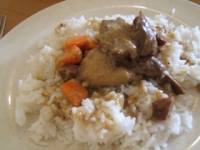 How to cook chicken pastel
Ingredients
1 kg chicken
1⁄2 kg liver and chicken gizzard
chorizo de bilbao, sliced
2 potatoes, diced
1 medium carrot, diced
1 onion, chopped
2 heads garlic, minced
1 cup evaporated milk
2 cups chicken stock
1⁄2 cup butter
1⁄4 cup flour
1⁄2 tbsp peppercorn, crushed
1 tbsp salt and MSG
Cooking instructions
Saute the garlic.
Add the onion, chicken, liver, chicken gizzard and chorizo.
Stir for a minute and add 1 cup of the chicken stock.
Then bring it to the boil for 10 minutes.
Add the potatoes, carrot, butter, peppercorns and the remaining chicken stock.
Add the evaporated milk and thicken sauce mixing in the flour until it forms a roux.
Simmer for 3-5 minutes then season with salt, MSG and pepper to taste.
Then transfer to a serving dish.