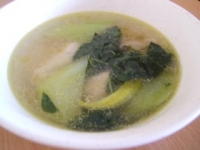 How to cook Chicken Tinola
Ingredients
1 kg chicken, cut into chunks
1 litre water
1 thumb-sized fresh ginger root, cut into strips
6 cloves of garlic, minced
1 onion, chopped
1 green papaya, quartered
fish sauce (optional seasoning)
cooking oil
salt
lemongrass stalks
Cooking instructions
In a medium saucepan or casserole dish, heat the oil over a medium heat. Saute the ginger and garlic until fragrant. Add the onions, stir-fry until softened and translucent.
Add the chicken and cook until the colour changes. Season with fish sauce and salt.
Add some water and bring to a boil. Lower the heat and let it simmer until the chicken is half-done.
add lemongrass
Add the green papaya and continue simmering until the chicken softens but is not overcooked. Then turn off the heat and transfer to a serving dish.