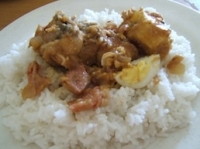 How to cook peanut butter chicken
Ingredients
1½ kg chicken, cut into serving pieces
6 pieces of cardava banana, sliced
diagonally and fried
5 slices fried bacon
2 hard-boiled eggs, sliced
2 cups onions, chopped
1 cup deep fried peanuts, crushed
½ cup creamy peanut butter
½ cup peanut oil
1 tsp cayenne pepper
2 cups water
salt and pepper
Cooking instructions
Heat the oil in a pan. Cook the chicken.
Once cooked, remove the chicken and set it to one side.
Saute the onions in the same pan, then add the peanut butter and cayenne pepper.
Slowly pour the water into the pan and
add salt and pepper for seasoning.
Put the chicken back into the pan and continue to cook until it is tender and the sauce has thickened.
Then transfer everything to a serving dish and sprinkle crushed fried peanut over the chicken pieces.
Serve it with rice, together with bacon, eggs and cardava banana.