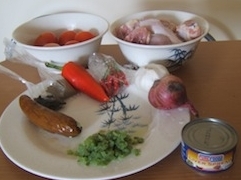 How to cook chicken caldereta
Ingredients
1 whole chicken chorizo de Bilbao
1 red chili pepper
2 onions
5 tomatoes
sweet mixed pickles
1 can liver spread
3 cloves of crushed garlic 1 tablespoon peppercorns 2 tablespoon annatto extract 1 cup vinegar salt and MSG
Cooking instructions
Rinse and clean the chicken.
Then cut it into serving pieces.
Marinade the chicken with vinegar, crushed garlic and a dash of salt.
Drain the chicken and reserve the marinade. Chop the onions and tomatoes. Cut the red chili pepper into wedges and cut the chorizo diagonally. In a saucepan, stir-fry the chicken until its colour changes to light brown. Remove it from the pan and set it to one side. In the same pan, saute the garlic and onions. Return the chicken to the pan and saute then add the reserved marinade, chopped onions and tomatoes, sweet mixed pickles and chorizo. Stir whilst cooking until the chicken pieces are tender. Add 3 to 4 cups of water, annatto extract, crushed pepper corns, chili pepper and the liver spread then stir and simmer until sauce thickens. Season with salt and MSG if required.